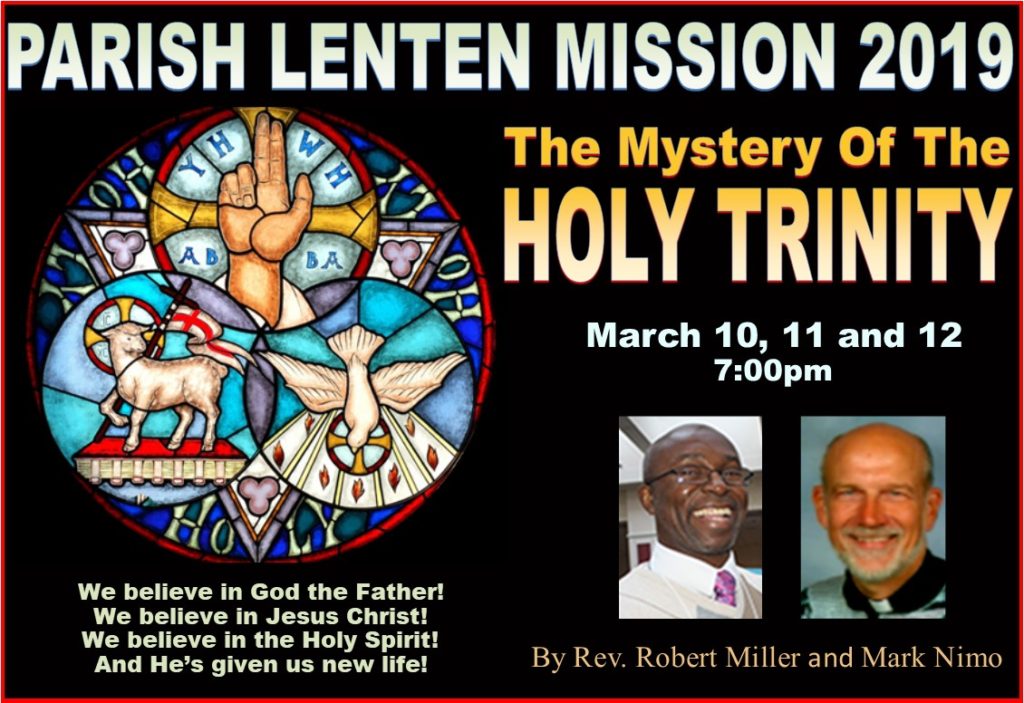 Posted on Feb 24, 2019 in BLOG, Events, Liturgy, Social |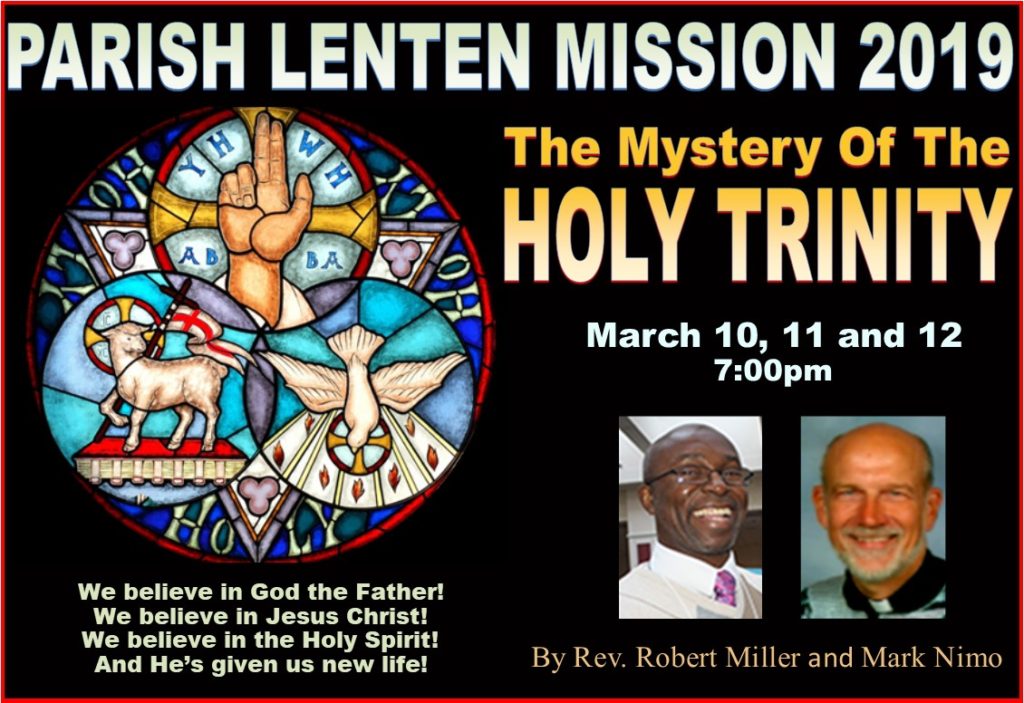 You're Invited! Bring your bible and join us for an experience of The Mystery of the Holy Trinity — March 10, 11 and 12 — 7:00 pm in the Church (Don't worry if you don't have a bible – we'll share!)
Mark Nimo was born in 1964 and comes from Ghana in West Africa. He had a profound conversion experience at the age of twenty when he fathered a child out of wedlock. He became actively involved in the Catholic Charismatic Renewal Movement. Mark Nimo represented all English and Portuguese speaking countries in Africa on the International Catholic Charismatic Renewal Services in the Vatican from 1994- 2004. This position gave him the opportunity to minister in 37 countries on all the continents of the world.
Mark started studies at the Catholic Theological Union, Chicago in September of 2004 and graduated in May 2006 with a Master of Arts in Pastoral Studies. He currently serves as Director of Religious Education at St. Columbanus Church and also teaches at St. Dorothy School. In 2008, Mark received a Bernadin Scholarship to undertake studies for the Ecumenical Doctor of Ministry degree, with a concentration in Intercultural Studies. Mark completed his doctoral studies in May, 2012. Mark is married to Mercy and has three daughters, Elizabeth, Michelle-Marie and Noelle.

Rev. Robert Miller has worked for more than 23 years on Chicago's south-side black Catholic community, and is presently Pastor of St. Dorothy's Church there. Ordained a Catholic priest in 1976, he joined the Chicago Archdiocese in 1995 after 20 years of religious life as a Redemptorist, including 8 years of full-time preaching. His ministry has been wide-ranging and extensive – he has preached missions & retreats nationally, celebrated healing & charismatic Masses, and taught Church history in the Archdiocesan Deacon Formation program. Fr. Bob is also the founder (1997) and chair of Genesis Housing Development Corporation, a faith-based group building affordable housing and working with homeowners on foreclosure & ownership issues on Chicago's southside. He has written six books, including a popular Lectio Divina trilogy of Scripture reflection/meditation books.
Read more...
---