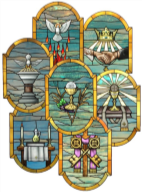 Sacraments at Transfiguration Church
"The sacraments are efficacious signs of grace, instituted by Christ and entrusted to the Church, by which divine life is dispensed to us. The visible rites by which the sacraments are celebrated signify and make present the graces proper to each sacrament."
SACRAMENT OF THE EUCHARIST (MASS)
Friday: 8:00am (English-Mask Mandatory for this Mass)
Saturday: 4:00pm (English)
6:00pm (Español)
Sunday: 8:00am (English)
10:00am (English)
1:00pm (Po Polsku)
Monday, Wednesday, Friday —
Thursday —

Saturday —

Communion Service: 8:00am (English)
HOLY DAYS OF OBLIGATION
Mass of Anticipation: 7:00pm (Español)
Holy Day: 8:00am (English)
10:00am** (English)
(**school months only)
7:00pm (English/Polish)
Memorial Day & Thanksgiving 9:00am (English)
All Souls' Day 8:00am (English)

SCHOOL MASS
(when school is in session)
Thursday at 9:15am
First Eucharist / First Communion Preparation
Contact the School of Religion at 847.526.2400
LENTEN REGULATIONS:
Abstinence from meat is to be observed by all Catholics 14 years old and older on Ash Wednesday and on all the Fridays of Lent. Fasting is to be observed on Ash Wednesday by all Catholics who are 18 years of age but not yet 59. Those who are bound by this may take only one full meal. Two smaller meals are permitted if necessary to maintain strength according to one's needs, but eating solid foods between meals is not permitted. The special Paschal fast, as well as abstinence, are prescribed for Good Friday and encouraged for Holy Saturday.
Abstinencia: Todos los católicos mayores de 14 años, deben abstenerse de comer carne el Miércoles de Ceniza
y todos los viernes de Cuaresma. El Ayuno debe ser observado el Miércoles de Ceniza y Vienes Santo por
todos los católicos que han-cumplido los 18 años pero no han llegado a los 59. Sólo pueden hacer una comida
completa, y dos comidas pequeñas, pero no se permite alimento sólido entre las comidas.
SPECIAL CELEBRATIONS:
Dates can be reserved for special celebrations such as Baptisms, Weddings and Quinceañeras. Be sure to contact the Parish Office to inquire about a date prior to reserving a venue if a party is planned. Our Spanish speaking Administrative Assistant, Laura Lugo, is in the office Monday – Friday from 9 am – noon and 1 – 2 pm and the Parish Secretary, Kathie Blaszak, works until 5 pm on weekdays. Please contact us during the time that will best serve you.
SACRAMENT OF RECONCILIATION (CONFESSION/CONFESIONES/WYZNANIA)
MONDAY, TUESDAY, WEDNESDAY, FRIDAY
LUNES/MARTES/MIÉRCOLES/VIERNES
8:30am to 9:15am (English/Español) at Church
WEDNESDAY MIÉRCOLES
7:00pm to 8:00pm (
English/Español
) at Church
SUNDAY NIEDZIELA

12:30 pm to 1:00 pm (Po Polsku) at Church
CHRISTMAS & EASTER
NO CONFESSIONS
By APPOINTMENT: Call the Parish Office.
BAPTISMAL PREPARATION
Informacje Chrzcielne
— English: 4th Sunday of the Month at 3:00pm
Please Call the Office to Register for the Class
PLATICAS PRE-BAUTISMALES
— Español: 4o Sábado del mes at 2:30pm
Llamar a la oficina para confirmar tu asistencia.
BAPTISM TIMES
–1st & 3rd Sunday of the Month at 11:30am
FECHAS PARA BAUTISMOS
–2o y 4o Domingo del mes a las 11:30pm
BAPTISM TIME
–2nd & 4th Sunday of the Month right after the Polish Mass
To Reserve a Baptism, call the Office at 847.526.2400
Family Ministries of the Archdiocese of Chicago
coordinates programs to strengthen marriage and families while serving as a resource to families, ministers, and parish staffs. Programs include:
Pre-Cana / Marriage Education

FOCCUS

Divorce & Annulment Support

Natural Family Planning

Hispanic Family Ministries

English, Spanish & Polish Website

TO RESERVE A WE
DDING CELEBRATION, PLEASE CALL OUR PARISH OFFICE at 847.526.2400
Para reservación de una BODA, llamar a nuestras oficinas.
It is suggested you call Transfiguration Parish prior to booking your reception venue to confirm availability.
Mrs. Josette Pezowicz
email: josettenfeliks@comcast.net
= = = = = = = = = = = = =

Offers a weekend experience designed to give married couples the opportunity to learn a technique of loving communication that they can use for the rest of their lives.
SACRAMENT OF ANOINTING
Unción de los Enfermos
Namaszczenie Chorych
— First FRIDAY of the Month —
During 8:00am morning Mass. 1er Viernes del mes 1sza
piątek miesiąca
— Select Second WEDNESDAYS of the Month —
7:00pm (Holy Hour)
2do Miércoles del mes 7:00pm
Druga środa miesiąca 

7:00pm
Call the Parish Office 847.526.2400 and ask for one of our PRIESTS.
SACRAMENT OF CONFIRMATION
Sacramento de Confirmacion
Sakrament Potwierdzenia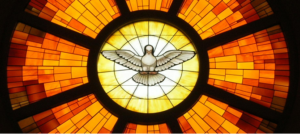 YOUTH CONFIRMATION
To receive the Sacrament of Confirmation, students not already enrolled in Frassati Catholic Academy need to enroll with the School of Religion in 7th grade. The two year formation process will end with the Confirmation celebration near the end of 8th grade.
To receive the Sacrament of Confirmation, as an adult, you would enroll in the RCIA process (Rite of Christian Initiation for Adults) which begins in August of each year. Contact the parish office at 847. 526.2400 to enroll.
ADULT CONFIRMATION FOR VICARIATE I PARISHIONERS
Information and a registration form coming soon.
The Archdiocese of Chicago Vocation Office has detailed information and an outline of the step by step process to become a priest. Click
HERE
for more information.
Additionally, Mundelein Seminary has a detailed listing and information regarding the priesthood. Click
HERE
to link to their website.
Deacons are a very important part of our Parish in their support of our Pastor and priests. To learn more about becoming a deacon visit the University of St. Mary of the Lake
HERE
.
VOCATIONS & CONSECRATED LIFE
The Chicago Archdiocesan Vocation Office (CAVA) is a rich resource for those discerning consecration to the religious life. Click
HERE
to link to their website.