— Public Prayer & Private Devotions —
Celebrating Our Faith More Joyfully
Our goal is to stimulate an Evangelizing Liturgy (to change peoples' Weekend Experience) through formation, mindful and fruitful participation of the people of God, so that, by celebrating the Paschal Mystery of our Faith, both the theological life and Christian commitment will be strengthened.
The Lord invites to "watch and pray so that you will not fall into temptation." We believe that God tirelessly calls each of us to mystically experience a personal encounter with Himself. Our Goal here is to offer God's people different forms of Christian prayer, so that through pious devotions, the life of the faithful may be conformed to Christ in the Holy Spirit to the glory of God the Father.
No prayers found! 1 Thessalonians 5:17: Pray without ceasing!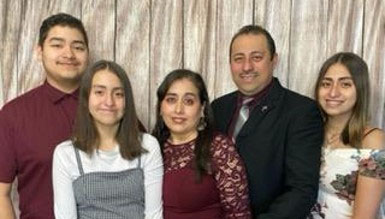 Hello brothers and sisters from Transfiguration Parish.
Please allow me to introduce myself to all of you. My name is Israel Santiago, I am a candidate for the Permanent Diaconate and I will be ordained a Permanent Deacon on May 14, 2022. I ask of your prayers as I assure you mine for all of you.
My family is made up of my wife Rosa M. Gil and our children Jazmin, Daniel and Jezenia Santiago. I am originally from the State of Morelos, Mexico, my wife is from the State of Michoacán, Mexico. We have belong to Transfiguration since 2013. In Easter 2015, I received the Sacraments of Initiation through the RCIA to be part of this great family of God. I have been participating in different ministries of the church: Lector,
Extraordinary Minister of Communion, Acolyte, and Member of the Pastoral Council and most recently, chair of the Liturgy Ministry for the Latino Ministry Commission.
In 2016 I began my studies at the Pastoral Leadership Institute of the University of Saint Mary of the Lake in Mundelein. In 2018 I had the privilege of responding to God's call through the invitation to be part of the formation program of the Permanent
Diaconate of the University of Saint Mary of the Lake.
I THANK GOD for life, thank my wife and children for the support they have given me, my mentor Rev. JUAN PABLO AVILA IBARRA, for his support and advice to be a part of this journey at the service of God, to Deacon Jose Mancilla for his accompaniment, and to the community in general for your support and prayers.
I look forward to continue serving God and the Transfiguration community. I put myself in the hands of God and, with his help, to be able to serve this community as I am called to do.
Once again, greetings and my prayers for each one of you.
Sincerely,
Israel Santiago.
Read more...
---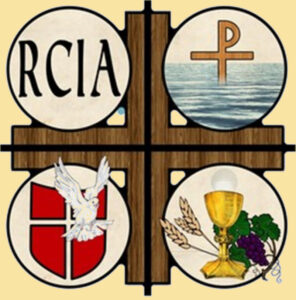 On behalf of Transfiguration Parish catechists, families, and friends, we would like to CONGRATULATE THE RCIA STUDENTS of 2022, who received or completed their
Sacraments of Initiation on
April 16, 2022:
Jose Luis Robles
Veronica Melo
Lizeth Wickersheim
Daisy Tinajero
Sarah Courtney Lanman
Luis Martinez
Akvaro Albineda
Cruz Hernandez
Read more...
---