Lord, it is wonderful
for us to be here…
–Matthew 17:4
Welcome to Transfiguration!
Transfiguration Parish is a people called to build a Catholic
Faith Community by seeking Christ and sharing His Gospel
through Prayer, Education, Service and Social Activities.
In person Liturgies:
Saturday, 4pm in English, 6pm en Español,
Sunday 8 & 10am in English and
Sunday 1pm in Polish

JOIN US on Facebook for
10:00am Virtual Sunday Mass from Transfiguration Church.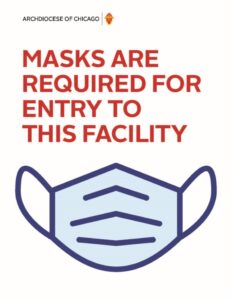 COVID-19 PROTOCOL:
We are now requiring that all persons, vaccinated or unvaccinated wear a mask in all indoor church activities.
We will continue to monitor the situation and work with local authorities on changes that may be necessary.
Would you like to receive email and/or text notifications of parish activity?
WEEKLY BULLETIN>
CATHOLIC LINKS & RESOURCES>
BE PART OF OUR FAMILY
Register>
SUPPORT GOD'S MISSION
Give Central>
ALL SAINTS DAY MASS:
An additional English Mass will be celebrated on Monday, November 1, 2021 at 7:00 pm for All Saints Day. As the date falls on a Monday, it is not a Holy Day of Obligation. A 10:00 am mass will NOT be offered.
Lector Workbooks:
Lectors, please pickup up your workbook for the upcoming year from the Gathering Place. They are labeled with your name.
ALL SOULS DAY MASS
An additional Mass (Tri lingual) will be celebrated on Tuesday, November 2, 2021 at 7:00 pm.
MINISTRY APPEAL
SPARE CHANGE SAVES BABIES!!
Take your own baby bottle from the basket and fill it at home! Just return the bottle the weekend of October 30-31. The funds collected will help support the pro-life work of AID FOR WOMEN OF NORTHERN LAKE COUNTY.
NEWSPAPER COLLECTION
The School of Religion is collecting newspapers for the upcoming Confirmation Retreat. Please bring and drop off any newspaper to the gathering place of the Church before November 1st. There will be a box marked NEWSPAPER.
TRAINING
If you're interested in joining our Ministry Team, the Vicariate I Ministry Commission is offering some free training opportunities for you. A Lector training session will be held on November 6th and a Eucharistic Minister session will be held on November 13th. Additionally, for anyone looking to join (or rejoin) the Altar Server Ministry, we will be hosting a training session here at Transfiguration on November 13th. If you are interested in registering for one or more of these sessions, please contact Chris O'Brien at robrien@archchicago.org.
Read more...
---
PRAYER
Celebrating Our Faith More Joyfully
EDUCATION
Learning Our Faith More Deeply
SERVICE
Sharing Our Faith More Intentionally
SOCIAL
Living Our Faith More Lively