Lord, it is wonderful
for us to be here…
–Matthew 17:4
Welcome to Transfiguration!
Transfiguration Parish is a people called to build a Catholic
Faith Community by seeking Christ and sharing His Gospel
through Prayer, Education, Service and Social Activities.
Saturday, 4pm in English and
6pm en Español
Sunday 8 & 10am in English and
1pm in Polish

NOTE: Weekday Mass Schedule has changed. Click on Full Mass Schedule above for details.
Lord, let us see your kindness, and grant us your salvation.

— Psalm 85

Would you like to receive email and/or text notifications of parish activity?
WEEKLY BULLETIN>
CATHOLIC LINKS & RESOURCES>
BE PART OF OUR FAMILY
Register>
SUPPORT GOD'S MISSION
Give Central>
MARK YOUR CALENDAR – OPPORTUNITIES – ANNOUNCEMENTS

DONATE and help beautify the Transfiguration Altar for Christmas.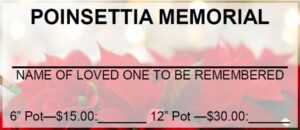 With your donation we will remember a loved one in one mass during this holiday season. If you are interested in participating, please fill this form and drop it in the collection basket with the correct amount.
The form is in the bulletin. If you don't have one, simply put 'Poinsettia Memorial', the name of your loved one(s) to be remembered and the number of plants you are requesting on paper and include your correct payment amount in an envelope and put this in the collection basket.
===============
DONA y ayuda a embellecer el Altar de nuestra parroquia para Navidad. Con tu donación recordaremos a un ser
querido en una misa durante esta temporada festiva. Si está interesado en participar, complete este formulario
y colóquelo en la canasta de recolección con la cantidad correcta.
Read more...
---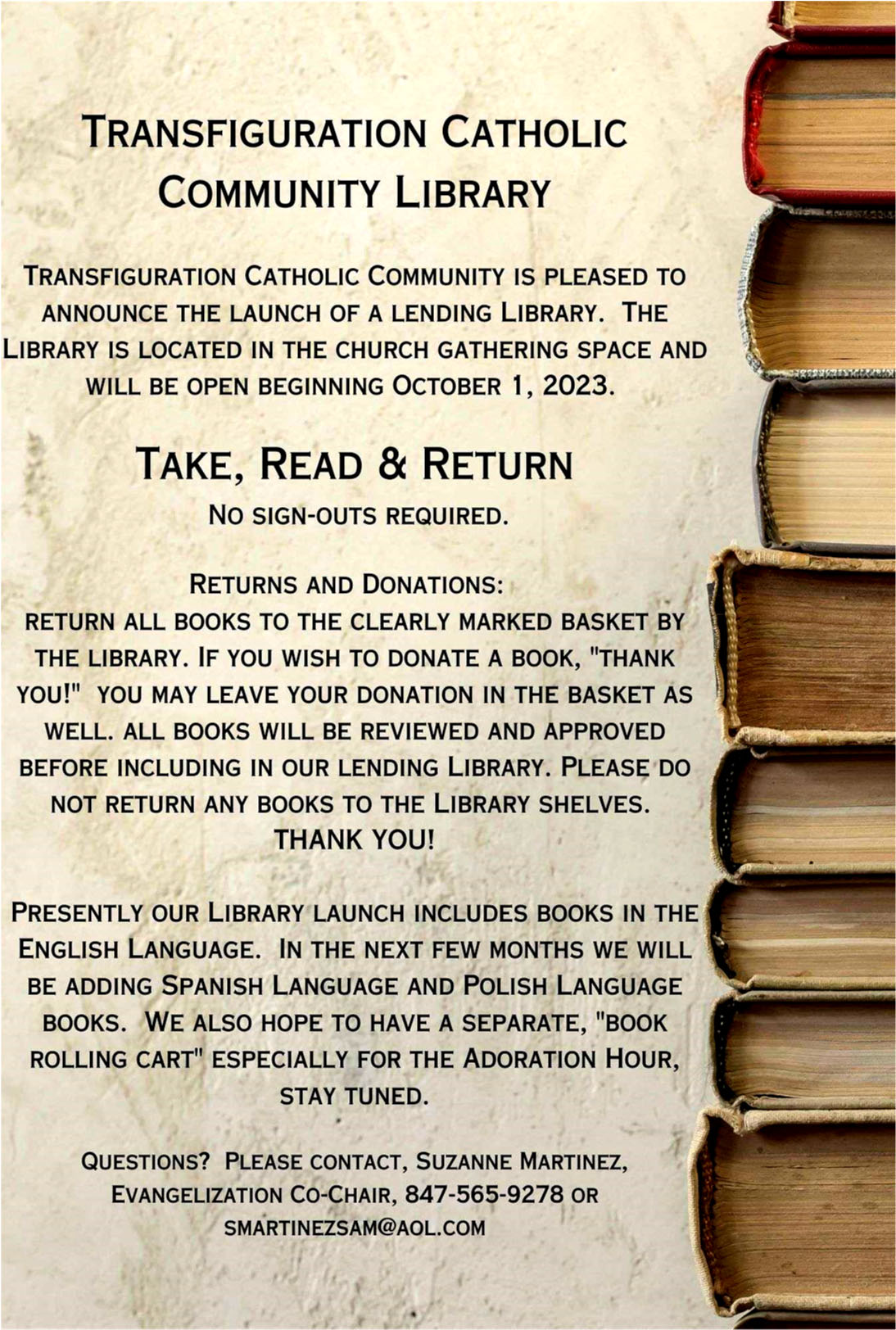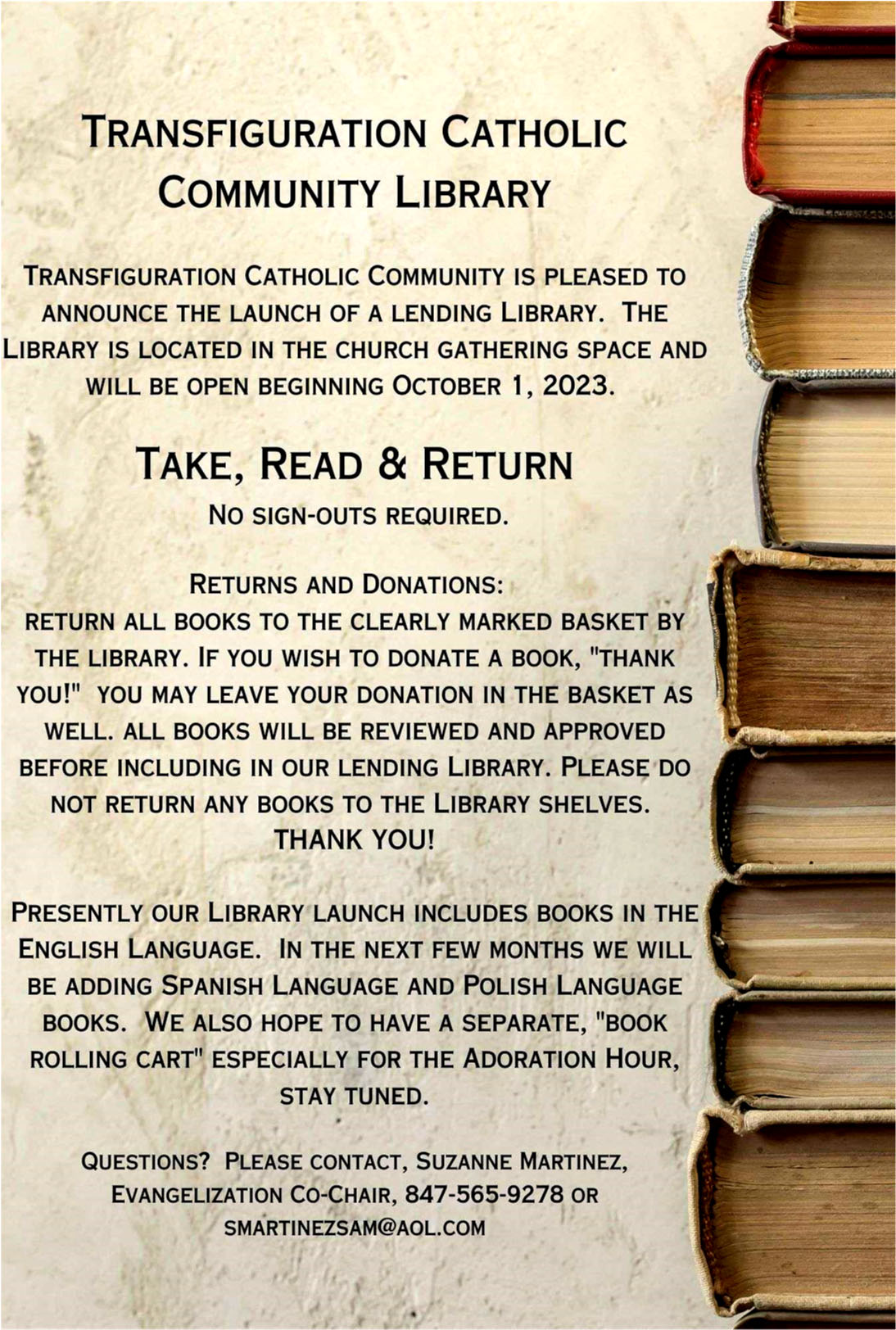 Open for reading and sharing good reads!
Read more...
---
WE DID IT! WE REACHED OUR PLEDGE GOAL!
A huge thank you to all parishioners who have fulfilled/or are in the process of fulfilling their pledges to the Improvement Fund. We want every parishioner to know that we have opened a separate account at our local bank in which we are keeping all Improvement Fund donations. This money is not used for general parish expenses and is strictly used for any building/equipment repairs that we have not budgeted for.
If you have not pledged yet or you would like to continue contributing to this fund, please use your blue Improvement Fund envelopes or Give Central. We can build this
account up for any future repairs.
Thank you for all that you do for our Transfiguration Community! With your generous donations these are the projects we have completed and paid for:
New Church Boiler $43,965
School Elevator Repair $38,023
New Hymnals $13,125
OWC Chimney Repair $5,000
Church Pumps Repair $4,665
Total = $104,778
The total donations/pledges received since the campaign began in March 2023 is $102,236. The total due from parishioners still fulfilling their pledges is $11,723. The total due from 30 parishioners who filled out a pledge card and have not made a payment is $3,585. Hoping we can collect this additional $15,308 from our initial pledge drive.
Any questions, feel free to contact me: Camie Kwasigroch, Business Manager
(847) 526-2400 x234, camiejkwasigroch@archchicago.org
–As shared in the parish bulletin, September 24, 2023
Read more...
---
PRAYER
Celebrating Our Faith More Joyfully
EDUCATION
Learning Our Faith More Deeply
SERVICE
Sharing Our Faith More Intentionally
SOCIAL
Living Our Faith More Lively