SACRAMENTAL RESERVATIONS:
Transfiguration Church is fully open to celebrate with you
and your family. We remind
those planning a Sacrament
(such as Baptisms, Weddings)
or
Special
Celebration
(such as: Anniversaries, Quinceañeras, )
to call the Parish
Office
for information and prerequisites you might need
and to set the dates.
MASS INTENTION DEADLINE:
Mass intentions will be taken through 2pm on Wednesdays.
If the intention is to be included in the weekend bulletin,
information needs to be received no later than Monday at
2pm of that week.
HELP WANTED:
The Parish is seeking a full-time Director of Youth and Family Ministry. Details regarding this position are posted on the Archdiocese of Chicago and Transfiguration Parish websites as well as Transfiguration's Facebook page. Inquiries can be directed to Camie Kwasigroch, Business Manager: camiejkwasigroch@archchicago.org.
FACILITY USE RESERVATIONS DEADLINE:
If your ministry, commission or group uses buildings on our
campus, it is time to renew your reservations for the coming
year. Please email your reservation requests and meeting place
renewals to: transfiguration-mill@archchicago.org or contact
Kathie Blaszak in the Parish Office at 847-526-2400. Submit
your requests by May 31 for the coming fiscal year: July 1, 2022
-June 30, 2023. You will be advised of any conflicts.
BEREAVEMENT MINISTERS NEEDED:
Transfiguration is seeking Bereavement Ministers to assist with funeral masses and/or visitations in the church. This is a key role and provides much needed support for a crucial life event. There is training required that is provided at the parish and Vicariate levels. The time commitment is generally 1.5-2 hours on the date of the mass. Deacon Chris had made an appeal at mass several months ago. Prayerfully consider joining this very rewarding Ministry and contact Kathie Blaszak at 847-526-2400 X 245 (Parish Office) if you are interested or have questions.
LADIES BUNCO:
Bunco on Tuesday, May 10 has been cancelled. We will
resume in June.
MINISTERS OF CARE:
If you or a family member is home bound and would like to receive Holy Communion please call the parish office at (847) 526-2400 Monday through Friday from 9am to 5pm or email us at Transfiguration-Mill@Archchicago.org. We will forward the message to one of our communion ministers.
MASS INTENTIONS:
are available for anyone who would like their intentions to be remembered at Mass. Intentions are available for those who have died or for someone who is living. Call us to obtain a date and time. (847) 526—2400
PRAYER LIST:
Please check in with us at the office to update the prayer list. Send an email to Transfiguration-Mill@archchicago.org or call the office at (847) 526-2400.
Read more...
---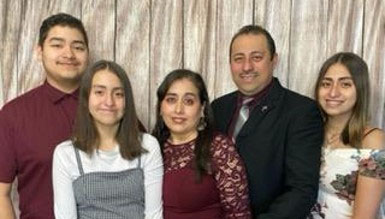 Hello brothers and sisters from Transfiguration Parish.
Please allow me to introduce myself to all of you. My name is Israel Santiago, I am a candidate for the Permanent Diaconate and I will be ordained a Permanent Deacon on May 14, 2022. I ask of your prayers as I assure you mine for all of you.
My family is made up of my wife Rosa M. Gil and our children Jazmin, Daniel and Jezenia Santiago. I am originally from the State of Morelos, Mexico, my wife is from the State of Michoacán, Mexico. We have belong to Transfiguration since 2013. In Easter 2015, I received the Sacraments of Initiation through the RCIA to be part of this great family of God. I have been participating in different ministries of the church: Lector,
Extraordinary Minister of Communion, Acolyte, and Member of the Pastoral Council and most recently, chair of the Liturgy Ministry for the Latino Ministry Commission.
In 2016 I began my studies at the Pastoral Leadership Institute of the University of Saint Mary of the Lake in Mundelein. In 2018 I had the privilege of responding to God's call through the invitation to be part of the formation program of the Permanent
Diaconate of the University of Saint Mary of the Lake.
I THANK GOD for life, thank my wife and children for the support they have given me, my mentor Rev. JUAN PABLO AVILA IBARRA, for his support and advice to be a part of this journey at the service of God, to Deacon Jose Mancilla for his accompaniment, and to the community in general for your support and prayers.
I look forward to continue serving God and the Transfiguration community. I put myself in the hands of God and, with his help, to be able to serve this community as I am called to do.
Once again, greetings and my prayers for each one of you.
Sincerely,
Israel Santiago.
Read more...
---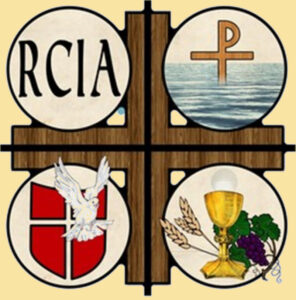 On behalf of Transfiguration Parish catechists, families, and friends, we would like to CONGRATULATE THE RCIA STUDENTS of 2022, who received or completed their
Sacraments of Initiation on
April 16, 2022:
Jose Luis Robles
Veronica Melo
Lizeth Wickersheim
Daisy Tinajero
Sarah Courtney Lanman
Luis Martinez
Akvaro Albineda
Cruz Hernandez
Read more...
---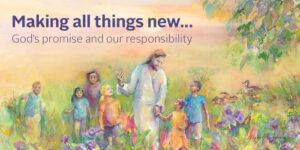 Annual Catholic Appeal 2022
The theme of this year's Annual Catholic Appeal is Making all things new … God's promise and our responsibility. We are called to embrace God's promise of making all things new and to embrace our own responsibility to work with God's plan. Our support of the Annual Catholic Appeal keeps us close to God's promise of renewal and our responsibility to work for it.
Through the Appeal, we are a part of making all things new in parishes and Catholic schools in need, in programs of religious education and ministry formation and in initiatives to address justice, peace and respect for life. We extend renewal and hope throughout the world through Catholic Relief Services.
If you have donated to the Annual Catholic Appeal in previous years, you may receive a letter from the Archdiocese of Chicago for the 2022 appeal. Our goal this year is to reach: $44,719. Any fulfilled pledges above that amount are returned to Transfiguration Parish for use as needed. Prayerfully consider making a pledge this year. More information will be made available in coming weeks.
Read more...
---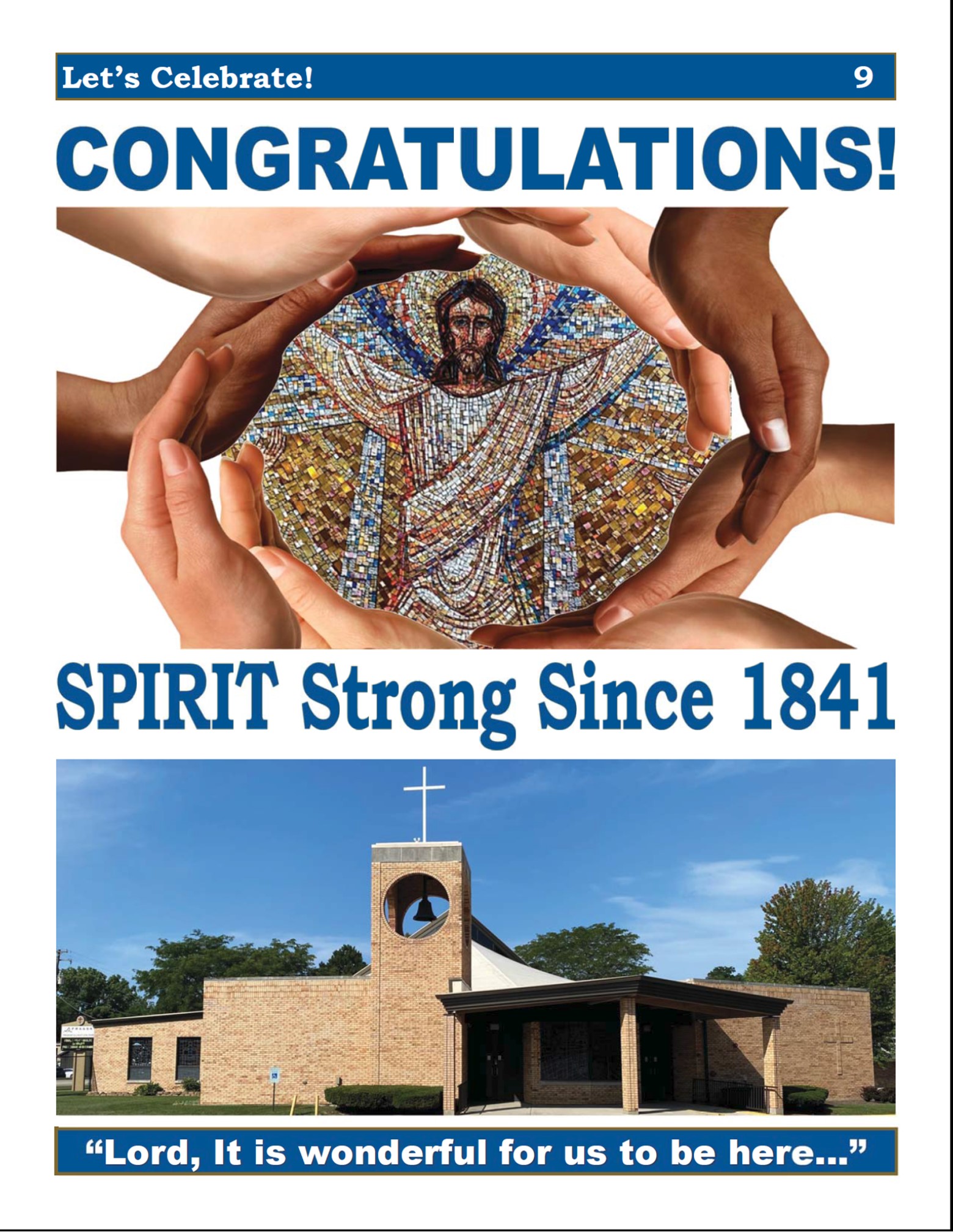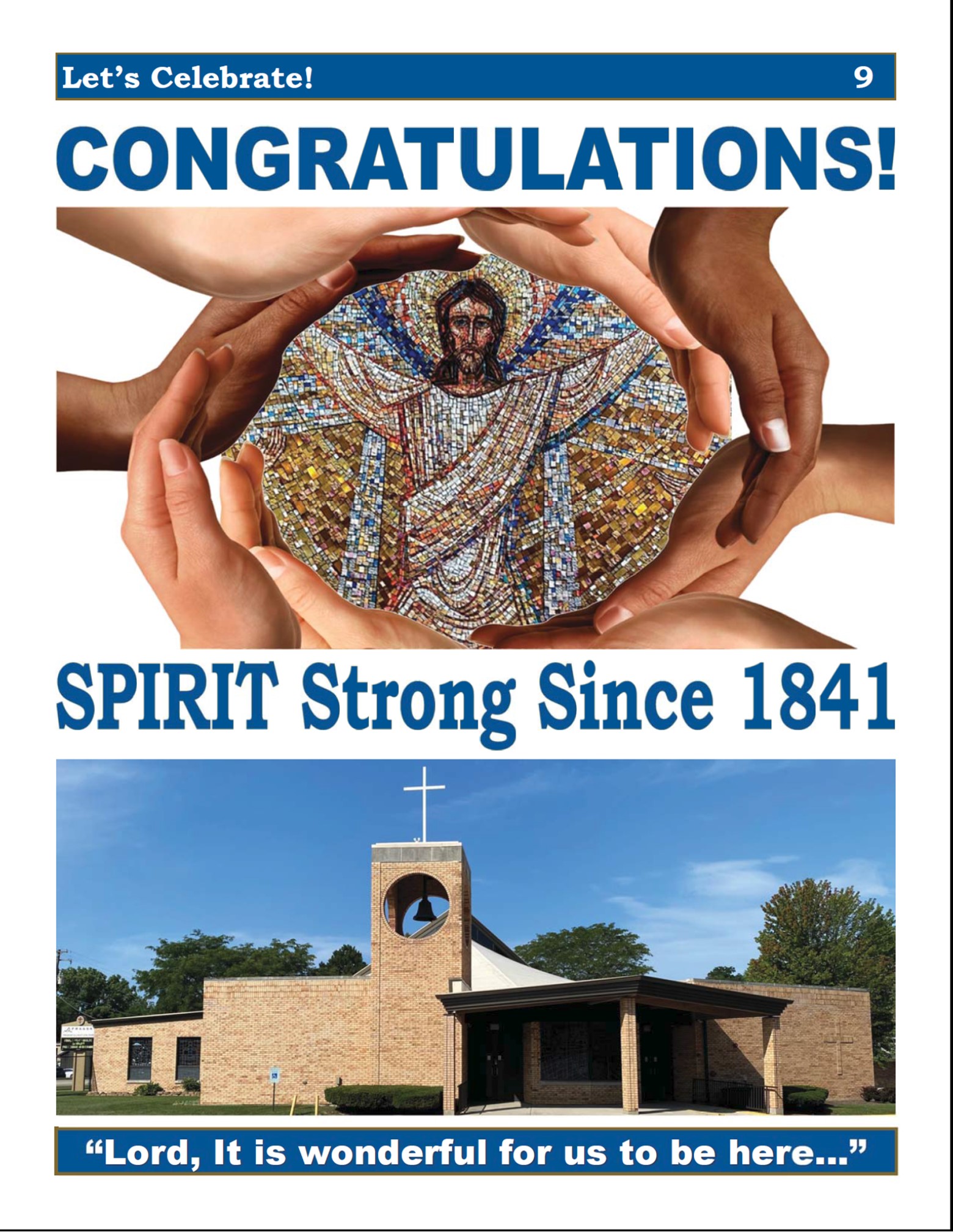 Read more...
---
ATTENTION!!! PHISHING ALERT!!! TWO unauthorized Gmail account has been set up by an unknown party that appears to look like it was sent by Fr. Juan Pablo. It is requesting a reply. DO NOT respond to this email – it is phishing or a scam. These are NOT his accounts: revjuanpabloavilaibarra@gmail.com or revjuanpablo@gmail.com. If you are able to report the email, please do so via your service provider.
Read more...
---
A statement of your donations can be requested by sending an email to Parish@transfigurationwauconda.com or by calling (847) 526-2400 and ask to be added on the list. For both types of responses, please include your name a phone number, if possible your parish ID (Envelope) number and current address. Statements will be sent only to those requesting one.
Read more...
---
Enroll your child NOW for the 2022-2023 academic year. Inquire today to Save-a-Seat, learn about the Tax Credit and Financial Assistance Scholarships are available. Call 847-526-6311.
Read more...
---
Dear Parishioners, Welcome to our website. It is a place where we can meet to grow and share our Catholic Faith with our community. Let us stick together, love each other, and together, look to Jesus in prayer! — Rev JaPi
Read more...
---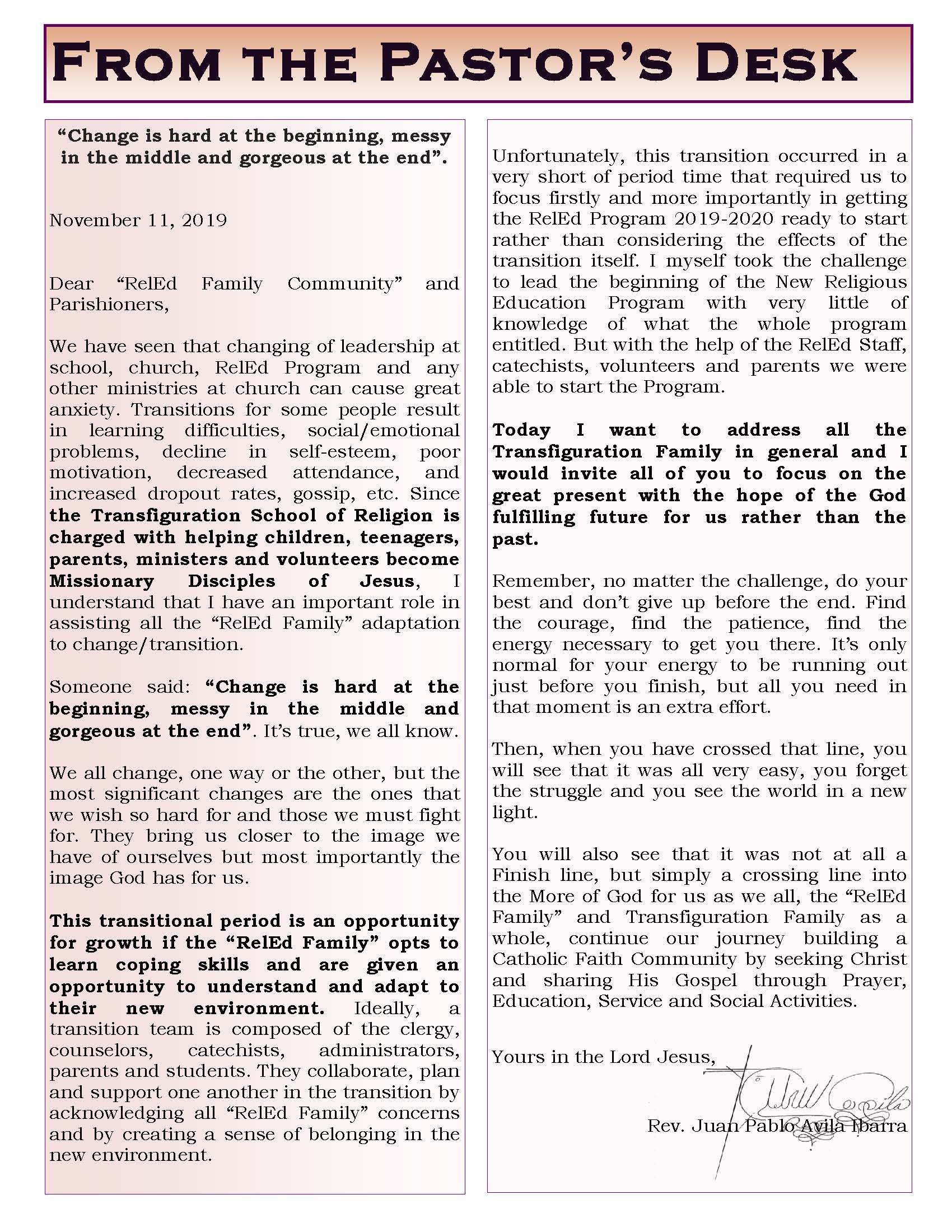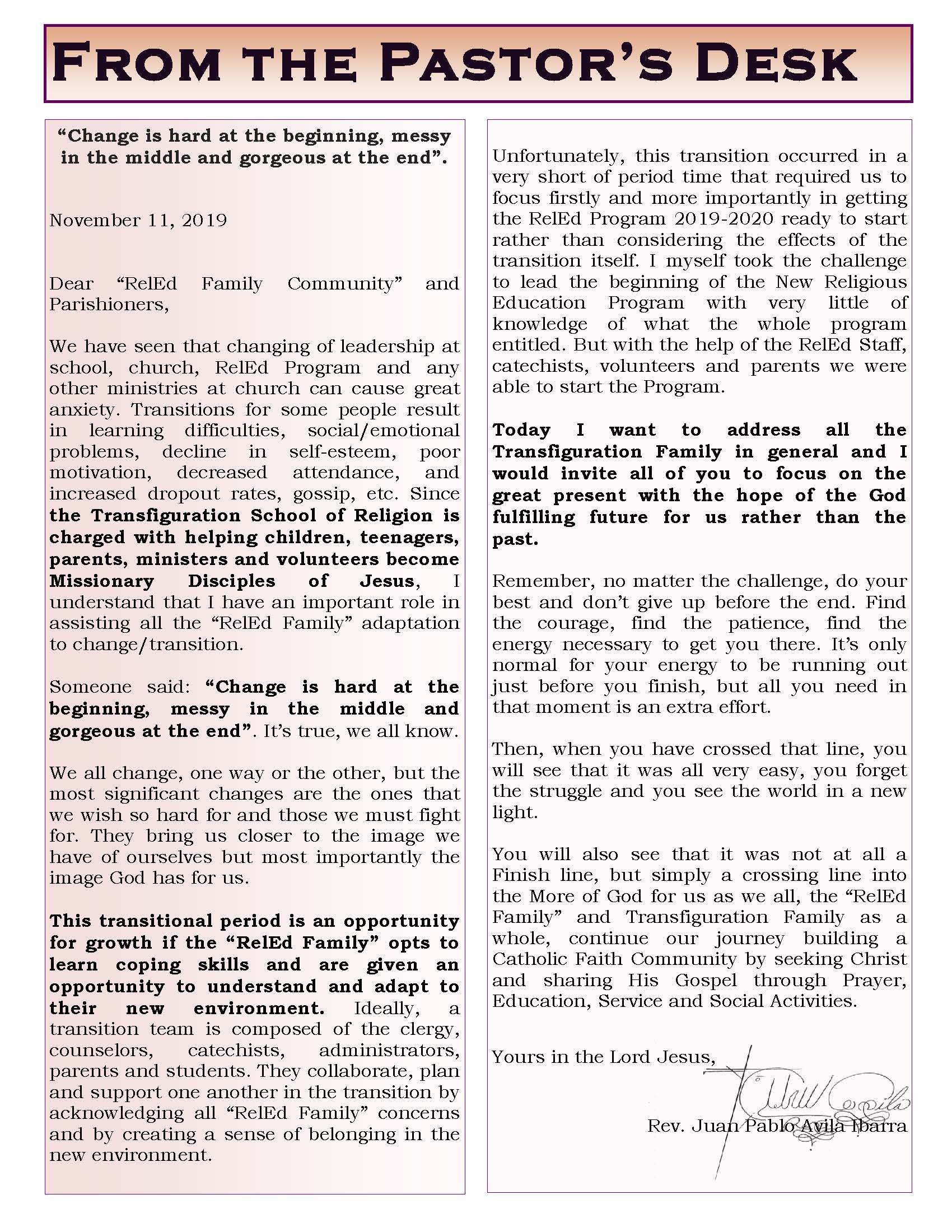 Important communication from Fr. Juan Pablo
Read more...
---