Honor your deceased loved one by purchasing a candle that will be lit during masses for month of November. Submit the name of the person to be remembered to the Parish Office. Include a stipend of $10.00 per name/candle. All Souls Day envelopes are also available in the vestibule. Print the name(s) of the deceased persons that you wish to be prayed for on the envelope and include a monetary donation. The envelopes will be placed in the altar for the coming year and remembered at each mass throughout the year. If you wish to include the name of someone in the Book of the Names of the Dead, please call the Parish Office at 847-526-2400 or email Transfiguration-Mill@Archchicago.org with that information. If services were supplied by Transfiguration or if the name was supplied in a previous year, those names do not need to be called in as they are automatically included.
Read more...
---
The Parish Office will close at 2:00 pm on Thursday, October 29 and Friday, October 30. Please plan accordingly.
If you plan a visits to the Parish Office it is recommended that you phone ahead to confirm the hours for that day. Outside of normal office hours items can be dropped off in the mailbox outside of door 12. Be sure to seal your item(s) in an envelope with the name of the person it should be directed to.
Read more...
---
Take a silent stand for life on Respect Life Sunday. Meet in front of Church at 1:50 pm. Life Chain begins at 2:00 pm to 3:00 pm on the sidewalk of the Church along Route 176. Rain or shine!
Read more...
---
All pets are invited to be blessed on Saturday, October 3, 2020 at 3:00 pm on the grassy lot at Mill and Church Streets. Please wear a face covering. We look forward to this very special tradition.
Read more...
---

This year, the Church celebrated Catechetical Sunday on September 20, 2020. The 2020 theme is I received from the Lord what I also handed on to you. Those who came forward
Read more...
---
The School of Religion 2020/2021 registration is now open until August 31, 2020. Visit the School of Religion page for welcome letter and registration form. Thank you.
****************************************
Las inscripciones de la Escuela de Religión 2020/2021 están abiertas hasta el 31 de agosto de 2020. Visite la página de la Escuela de Religión para obtener una carta de bienvenida y un formulario de inscripción. Muchas gracias.
Read more...
---
Thank you for all who have participated or will do so. On the Feast Day of Our Lady of Fatima, we share in a virtual May Crowning at Transfiguration from our Facebook Page. We share the rosary and ask Mary for protection & intercession in our world today.
Pray the Rosary at our Virtual May Crowning on Facebook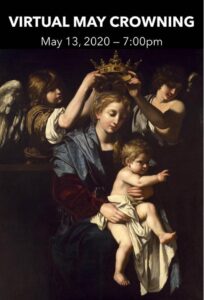 Read more...
---
Please join us for the Celebration of the Holy Mass, on Sunday at 10am, as we will broadcast the Mass from Transfiguration from our Facebook page
https://www.facebook.com/TransfigurationParishWauconda/
(You do not need a facebook account to view our main page). While we can't be together in person at this time, we can still worship and pray together from our own homes as a community and Parish Family. God bless you!
Read more...
---
A statement of your donations can be requested by sending an email to Parish@transfigurationwauconda.com or by calling (847) 526-2400 and ask to be added on the list. For both types of responses, please include your name a phone number, if possible your parish ID (Envelope) number and current address. Statements will be sent only to those requesting one.
Read more...
---
Enroll your child NOW for the 2020-2021 academic year. Inquire today to Save-a-Seat, learn about the Tax Credit and Financial Assistance Scholarships are available. Contact Nicole Vasels at 847-526-6311.
Read more...
---

That we may see the work of the Annual Catholic Appeal as an opportunity to extend our love and service to our parish, our community, and the world.
Read more...
---
Dear Parishioners, Welcome to our website. It is a place where we can meet to grow and share our Catholic Faith with our community. Let us stick together, love each other, and together, look to Jesus in prayer! — Rev JaPi
Read more...
---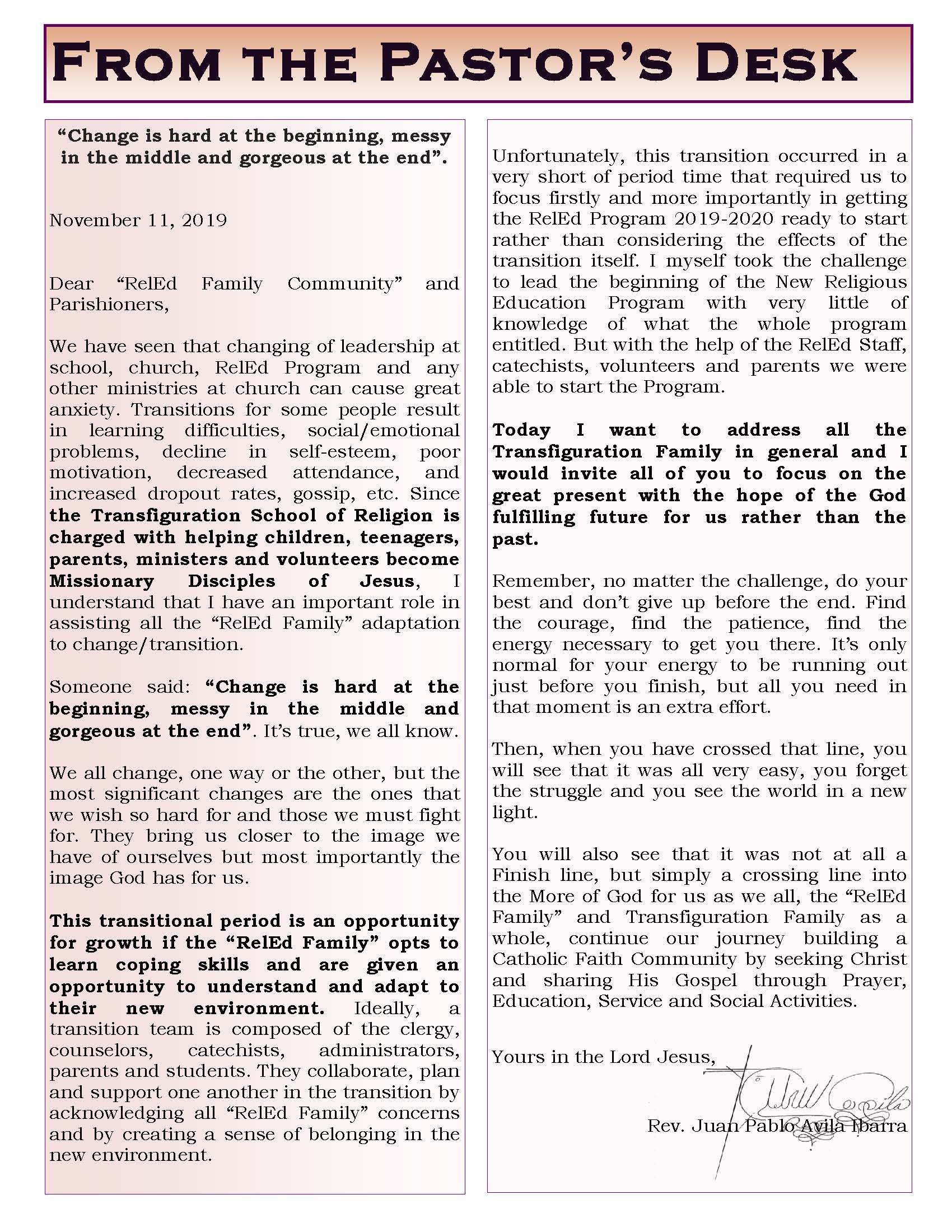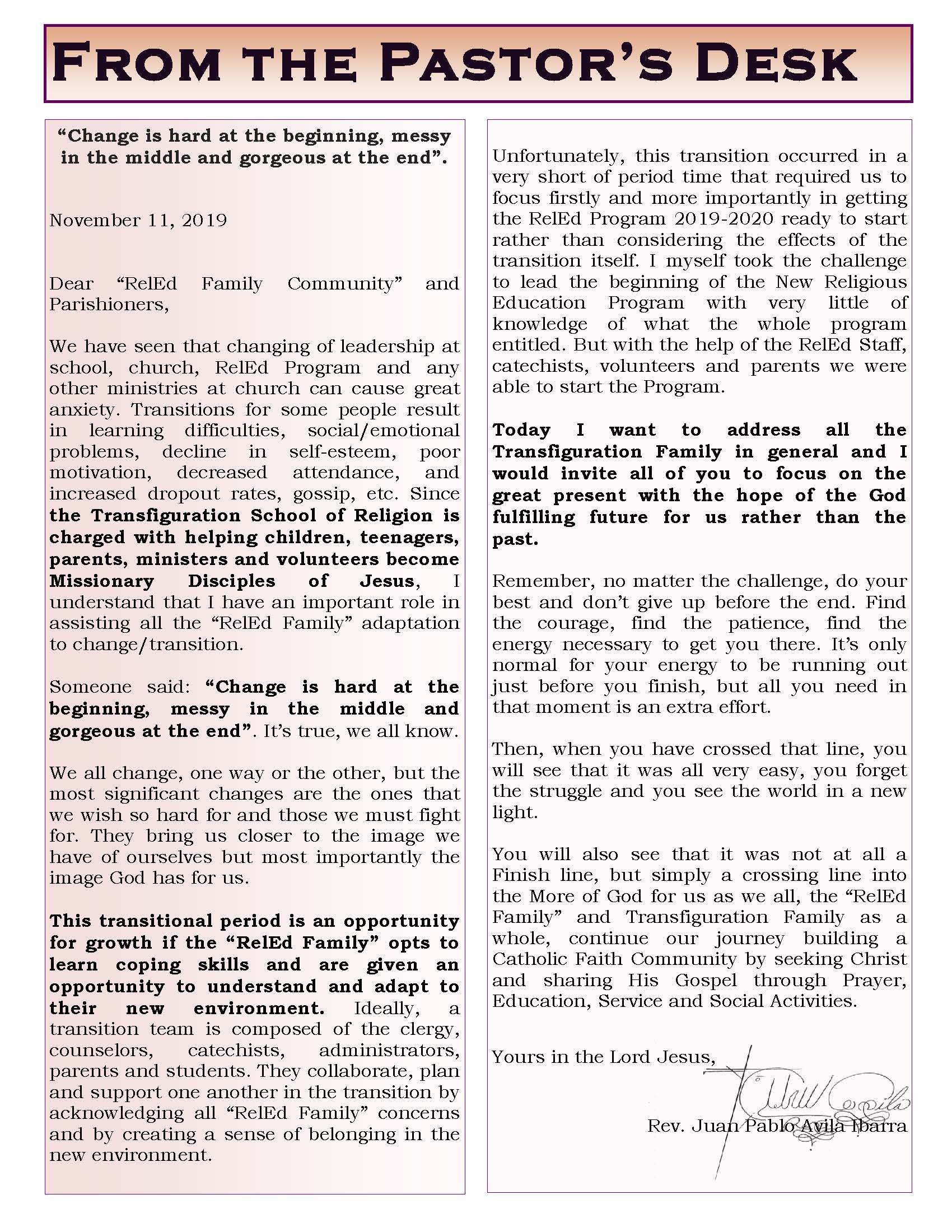 Important communication from Fr. Juan Pablo
Read more...
---